Jeffrey Sloe's Testimony
This is how my life changed...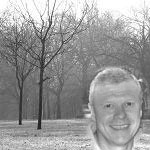 I hope my testimony will reveal God's true Glory, and how He can forgive even the most wretched sinners. I pray that God will open your heart to accept His free gift of salvation.
I pray that people will come to know the Lord after reading my testimony.
May God Bless you!
My Testimony
I was raised in a family that went to church on a regular basis. My mother made sure that we went to church; she was the leader when it came to church. I even went to parochial schools for 12 years, with the exception of the fifth grade, and thatís because we had moved and the parochial school was full. So I always knew God created all things, the earth, animals, plants, man, and woman, because that is what I was taught. I also knew Jesus died on the cross for our sins. I just couldnít put the whole concept together. Was there something missing? Was I missing something?
As I continued through my life, chasing after my dreams, I still felt there was something missing. Or was there? Was I just crazy and trying to over think life? After all, I had a business (which I started in my mid-twenties) that was booming, a nice car, money to spend on things, Brownís season tickets, and I was doing what I wanted, when I wanted to do it. LIFE WAS GOOD! At least in my eyes life was good. It was all about me (other than taking care of my customers, because they were the ones feeding me the business and the money). I continued to chase after my dreams, because I wanted to be on top of the world. I wanted to live the highlife.
I joined a country club; spend hours and hours working on my golf game, ignoring the woman that I was living with. Yes, I was even living with someone, never getting married. Eventually she left me and found someone else that would meet her needs. I was devastated! After all, we were together for five years. We were both fairly young and working. We had lots of stuff. We went on vacations. We did things, when it was convenient for me. I thought we were living the good life, but I guess it was me that was thinking this.
I guess I should have known something was wrong when a friend of mine kept reminding me, ďyouíre living in sinĒ. Yes, my friend Randy was trying to tell me that ďyou canít keep living that wayĒ. Thatís not the way God planned it when he created man and woman. After the big break up, I was living in studio apartment, what a slap in the face. I also started working the bar scene, looking for a replacement for the woman I had lost. The drinking got so bad that it almost cost me my business, not to mention, probably my life.
I would complain to Randy but he kept telling me about the Bible and what it says, and kept trying to get me to come to his church. So, after a few months, and a life that was on a downward spiral, I accepted his offer. I listened; I started to read the Bible, and started to listen to the Moody Bible radio station. I even attended some small group meetings. I was learning more about God and how he could help me, but it was still very difficult for me to submit ALL of my problems to someone I couldnít see. Remember, I was pretty self-sufficient and selfish.
I continued to attend Randyís church for about 3 years, until one day the same thing happened that I didnít like before, religion started to take precedence over what I was hearing in the sermons and on the radio, and what I was reading in the Bible. I was actually being turned off about religion. I was starting to feel the whole thing was a joke. I hated the way people acted differently in church, and outside the church. I remember thinking to myself, these people are nothing more than hypocrites, and I didnít what to be apart of that. I started to think that all churches were like that, because I saw it when I was younger, and as I was growing up. Is this the way itís supposed to be? Why are the people on the radio different? Whatís the answer? These were just some questions that continued to bounce around in my head.
After my experience with Randyís church, and still with unanswered questions in my mind, I went back to chasing my dreams, and focusing on my own desires. I even went so far as trying to fill my needs with a new condo and eventually a new car. Once again, business was going very well and I was enjoying life, playing golf, and doing my own thing. I did return to my old church still wondering if there was more to life. Then just like that, my ex-girlfriend called me. Although we were not living together, I found myself back in the similar situation that continued to snowball. She got pregnant.
Trying and make things right, at least in my eyes, I married her. We sold both our homes and bought a bigger home in Chesterland. A couple of years later, my wife decided she did not like living out in the country. So we built a new house in Mentor. Things were going alright, until I found out my wife was spending more money then we were taking in. The snowball continued to grow. I kept thinking there had to be more to life. What was I missing?
Continuing to follow my dreams, we built a house in SC, with all intentions of selling the house in Mentor and moving the SC before my daughter started school. The house was completed and ours was on the market. Then the snowball turned into an avalanche!
So I donít bore your with the gory details, Iíll continue to move right along. Remember the avalanche? Well we didnít move to SC, as a matter of fact, we almost lost the house that we had built. We closed on it 11 days before 911, while the foreclosure process was in full swing. Why were we so lucky? Why was someone watching over us?
Selling the house was a blessing, but going through a 34 month divorce was very painful. It was during that awful divorce that I had to find the answers. Remember my friend Randy? He came to the rescue once again. He was a shoulder to cry on and a rock to lean on. He knew me probably better then anyone else. He knew my whole situation, and he continually reminded me about living in sin.
During the time of my divorce, another friend of mine was starting a business in SC, and he needed help getting it off the ground. Finally, my big chance to follow my dream and move down south; after all, it was the beginning of fall and I didnít like winter. I knew it may only be temporary but it was worth the gamble. So I packed my stuff and off I went.
I spent 6 months in SC working and trying to find the answers to life. I read a lot and listened to many preachers on the radio. One day, I heard a man talking about our purpose in life, and why we are here on earth. His name was Rick Warren; he wrote a book called, A Purpose Driven Life. Immediately, I ordered the book and tape set. I indulged my self in his books and tapes. I read the book a second time and listened to the tapes while on my way to and from work. What he had to say in that book started to make sense, but I still wasnít quite ready to make any kind of permanent change in my life. I was still looking for more! Well I got what I was looking for, maybe not the way I wanted it, but none the less, I got it.
The job in SC ended abruptly and I wound up back in Ohio, without a job, without a car, no place to live, and truck full of STUFF. Even though I lacked a place to live, a car, and a job, I did have one thing; and that thing was HOPE. I knew it, and I could feel it, but I had no idea where it was coming from. The reason I felt that way was because of what Iíve heard and read while in SC.
I returned from SC late in the evening, and slept at a friendís house. The next morning came quickly, and I still had a truck full of stuff, and n place to put it. I went to see my old landlord, explained the situation, and he was gracious enough to rent me an apartment without a deposit or even paying the first monthís rent. I emptied and returned the truck with the help of some friends, and spent the rest of the day getting somewhat settled in.
Early the next day, I went to see Randy; he owned a construction company, and I wanted to see if he had a job for me. Unfortunately, he had no projects going on, but we did get caught up on my life. We spent a good portion of the day talking about business, God, and life.
The following day, my oldest daughter, Lindsey, called crying; her car had broken down. It had a lot of miles on it and was ready to be retired. With that in mind, I called my brother to see if he had anything with fewer miles (he bought and sold cars). I have no idea what I was thinking because I didnít have any money (I spent the last of my money on the rental truck).
Even though I didnít know it at the time, Godís love and mercy continued. My brother was gracious enough to sell me the car without exchanging money at this particular time. I did eventually have to pay him, but we would work out the details later. So, I loaded up some tools, and some parts, and drove to NY, thatís where my daughter lived. I was able to repair her old car and drive it back to Ohio, leaving Lindsey with a newer vehicle.
A few days later I went to see a Christian debt consolidation company in Mentor,OH because the debt was piling up from the divorce, and other expenditures. On my way, I lost the brakes on the car (remember, this was the ďoldĒ clunker that was ready for retirement); I blew a brake line at the traffic light just before entering the parking lot of the place I was headed.
Thatís when it hit me! I was broken, I was finished!
I parked the car in the parking lot, and cried out to God. I told Him I had enough and that I was giving my life, my worries and myself to Him, and his son Jesus Christ. I was DONE trying to do it myself. I also prayed and asked Him to help me get through everything I was going through, to give me the strength, courage, and energy to survive.
I composed myself and went in to see the debt counselor. He told me there was nothing he could do until I had a job. I guess that was still a problem, but I still needed a car before I could get a job. So, I jury-rigged the broken brake line and drove, without brakes, from Mentor to Chesterland, where my brother-in-law had a shop. He was gracious enough to supply me with the parts and the space so I could repair the car.
The next day I went back to see Randy; while sitting in his office, both basically without work, we talked about the future and what God would want us to do. After praying we decided God would not want us just sitting around doing nothing; so we went out to breakfast. We still needed food to maintain our strength. During breakfast, Randyís phone rang; a customer wanted him to look at, and quote a job. We finished eating, looked at the job, and made up an estimate. Randy called him back with a quote, and we got the job. We started working the very next day.
Since that day, the phone kept ringing, and the jobs kept coming in; we went from job to job. Eventually, Randy was able to call back to work the previously laid-off employees. God was taking care of us, He was meeting our needs.
As I look back, the day my car broke down was the day my life changed for the good. Jesus was the center of my life; the worries were gone, along with the stress. There was a peace that came over me that I have never known before. God helped me! God helped me survive the divorce! It was nothing I did, other than asking Him to take control of my life. I give all the glory to Him for what He has done for me and to me. He continues to bless me beyond all imagination.
You may ask, is it easy? NO! Do you ever find yourself wanting to go back to the old way? NO! Are you tempted to do so? Absolutely!
Everyday we are tempted, but knowing that you have someone bigger and more powerful then yourself along side you, makes it easier to cope. I now know that I am not in control of my life, Jesus is. I now look at situations with a different mind-set.
Things are clearer now, more then ever before. Do I still have my dreams and desires? You bet! Is it possible to chase after those dreams and desires? You bet! BUT, there is one thing different today then years ago; I have a friend that will never leave me or forsake me. And that friend is Jesus!
He has helped me to look at every aspect of my life differently; things actually make sense now. He has brought me a beautiful new bride and a wonderful church family. I feel so blessed! Why? Itís all because of Godís grace and mercy for His children, whom He loves unconditionally.
© Copyright you | Design by
Kumiko